According to the ranking of "QS World University Rankings 2023", Chang Jung Christian University is in the range of 800-1000.
The detailed sister universities of CJCU can be found in the following link:
List of Partner Institutions-CJCU Office of Global Engagement
Partner departments of CSIE-CJCU in the world.
University of Hradec Kralove(UHK), Hradec Kralove, Czech Rep. Faculty of Informatics & Management.
Summer exchange program (1 month)

Exchange program (1 year)

On June 30, the School of Information and Design of Evergreen University held the opening ceremony of the 2023 Summer Exchange School, and invited the principal, vice-principal, heads of departments of the School of Information and Design, and students from Hradec Kralove University in the Czech Republic. The exchange students and their fellow students from the school participated in the event. The one-month summer exchange school activity aims to provide foreign students with a rich and diverse learning experience. The course content includes virtual reality, 3D modeling, digital manufacturing, cross-cultural communication, Taiwanese food culture and practice, etc. , and arranged a number of off-campus visits, so that Czech students can personally experience the scenery and human feelings of Taiwan. At the same time, the School of Information and Design also sent the same number of Evergreen students to the University of Hradec Kralove in the Czech Republic for a one-month exchange study to experience European culture and lifestyle. Professor Yung Gi Wu, head of the Department of Computer Science & Information Engineering, said that this exchange program is an important cooperation project between our school and European universities. It has been implemented since 2017, but it was suspended for three years due to the impact of the epidemic. Back to normal. He also introduced the history of this exchange program, explaining how it developed from a friendly connection between teachers from both sides to a formal international cooperation program and has achieved good results and feedback in the past few years. He hoped that through this project, the friendship and cooperation between the two schools could be enhanced and students' international perspectives could be cultivated.
Middle Tennessee State University(MTSU), Murfreesboro, Tennessee, USA. Computer Science Program.
3+1+1 program to receive Bachelor's Degree from CJCU and Master Degree from MTSU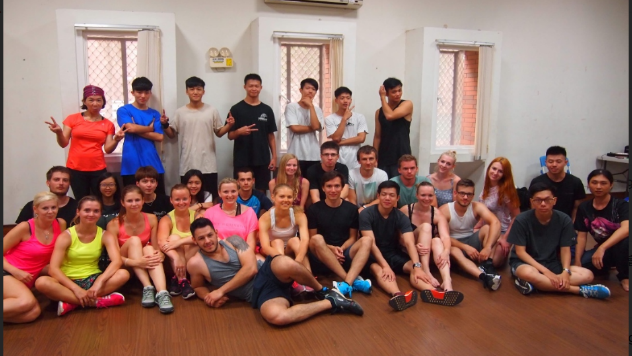 We are a young and promising department that looking for all the possible cooperations in research, student exchange, and joint degrees' programs. If you are interested in building a connection to CSIE, please feel free to contact the chairman Prof. Yung Gi Wu by email: wyg@mail.cjcu.edu.tw
The Chang Jung Christian University carries out research activities within the framework of the research topics of the various colleges and their research teams. The university also formulated university-wide research directions. These directions are multidisciplinary and interdisciplinary opportunities that can connect with each other and enhance the potential of various departments.
The following figure shows the QS ranking in Taiwan. Chung Jung Christian University is ranked 14 in Taiwan and ranked among 801-1000 in the world.
According to the statistics from EduRank, the publication count of Computer Science is 266.(up to 2023/8)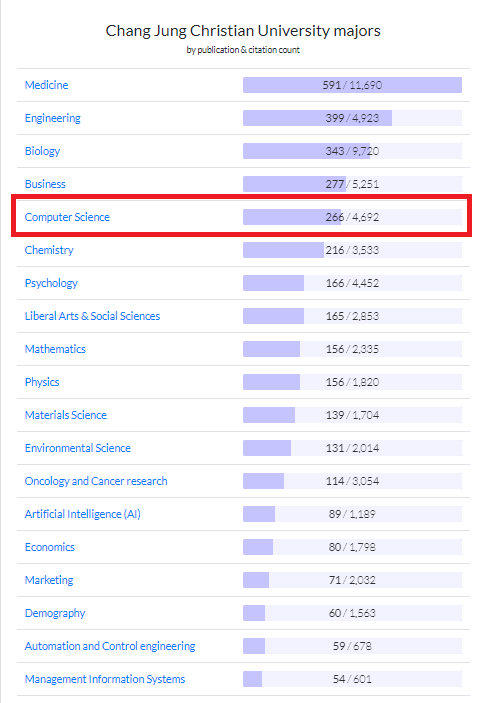 CSIE in CJCU is a very young and promising department that was established in 2005. Although there are not many professors, in addition to conducting exquisite research in the information field, they also conduct cross-disciplinary research in the university.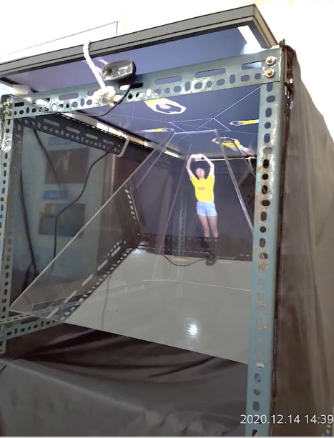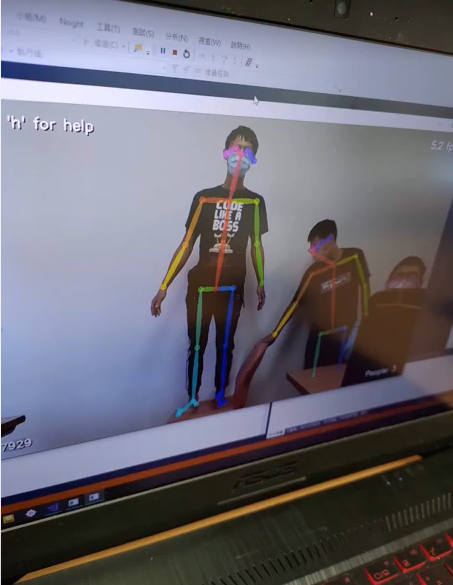 The rich research expertise of each faculty member are given in follows:
Professor Yung Gi Wu (Ph. D.) -- Evolutionary Computation, Image Processing, Video processing, Interactive & mobile Data Analysis, Data Compression, Intelligence system.
Associate Professor Su Ling Lee (Ph. D.) – Pattern Recognition, Digital Signal Processing, Image Processing.
Assistant Professor Ju Chan Chen (Ph. D.)—Image Processing, Multimedia Technology, Interactive Design, AI, Robot, Electricity Monitoring, Aviation, UAV System Design.
Assistant Professor Pei Ching Yang (Ph. D.)—AI, Mobile Healthcare, Project Management.
Assistant Professor Kun Yi Huang (Ph. D.)—AI, Speech Recognition, Affective Computing, Nature Language Processing.
Lecture Nan Lien Wu—Object-Oriented Programming, Internet Technology, Programming Language.
You can refer to the link of the Faculty-CJCU Department of Computer Science and Information Engineering and click the e-portfolio bottom to check each faculty member's publication in detail.
The research projects hosted by the faculty number in the past three years include
Humanities society and science and technology forward-looking talent cultivation project.

Artificial intelligence industry application talent cultivation and employment project.

Smart Healthcare in the elderly project.

Emotion detection project.

Artificial intelligence and data analysis industry application talent training project.

IoT-based interactive system project.

Pattern recognition by deep learning.

UAV group flight command system.

Art therapy by science & technology.