Greetings and Invitation from the University President
Take Your First Step on the Road to "Growth"
June 5, 2023
Dear Candidates for the College Entrance Examination:
First of all, I would like to congratulate all of you on the upcoming completion of your high school matriculation, and on the passing of all your various tests. In facing important choices in your life, I would like to prudently recommend Chang Jung Christian University for your consideration. I look forward to seeing you here at Chang Jung Christian University over the next four years.
Chang Jung Christian University is a comprehensive Christian university with 9 colleges and 55 departments and degree programs which belongs to the Colleges of Humanities and Social Sciences, Science, Business and Management, Engineering, Health Sciences, Fine Arts, and Practice and Education for the Environment.
Located within the new key development area in Tainan, Chang Jung Christian University is adjacent to the Tainan High Speed Rail Station and Green Energy Science Park (The TRA Chang Jung Christian University Station was built on the school campus, and it takes only four minutes to transfer from the high-speed rail station). In recent years, several Taiwan's important research institutions have been successively established in Tainan, including the Industrial Technology Research Institute, Academia Sinica, and the National Applied Research Laboratories (NARLabs); Activity spaces and venues have also been completed step by step, such as a large Japanese shopping mall and an International Conference Center (ICC) which have all been officially opened. National Cheng Kung University Hospital's Shalun Branch is expected to be completed and opened in 2025 as well.
Source: Tainan City Government
Over the past 30 years since its establishment, the school has adhered to the educational spirit of Jesus Christ, never giving up on any student. CJCU has continuously improved the quality of teaching, actively expanded its international presence, broadened the international perspectives of teachers and students, and strengthened student competitiveness. CJCU's achievements have been gradually recognized by various sectors. In 2021, the College of Management obtained the AACSB international accreditation, placing it in the top 6% of global business schools. In 2022, CJCU received the QS Asia University Ranking in the range of 351-400 and entered the QS World University Ranking in the range of 1,000-1,200. This year, we achieved remarkable results, making it debut in the 2022 THE Impact Rankings by Times Higher Education, ranking in the 601-800 range. Furthermore, in the latest 2023 QS World University Rankings, our progress was once again acknowledged, jumping 200 places to be ranked in the 801-1000 range. QS Stars Rating also rose from 4 stars in 2019 to the prestigious 5-star rating in 2022. On the domestic front, CJCU has received several awards such as the Gold Award in the 4th National Enterprise Environmental Protection Awards and the Model Award in University Sustainability Reporting in the 4th "Yuanjian Mazagine (CommonWealth)" University Social Responsibility Awards.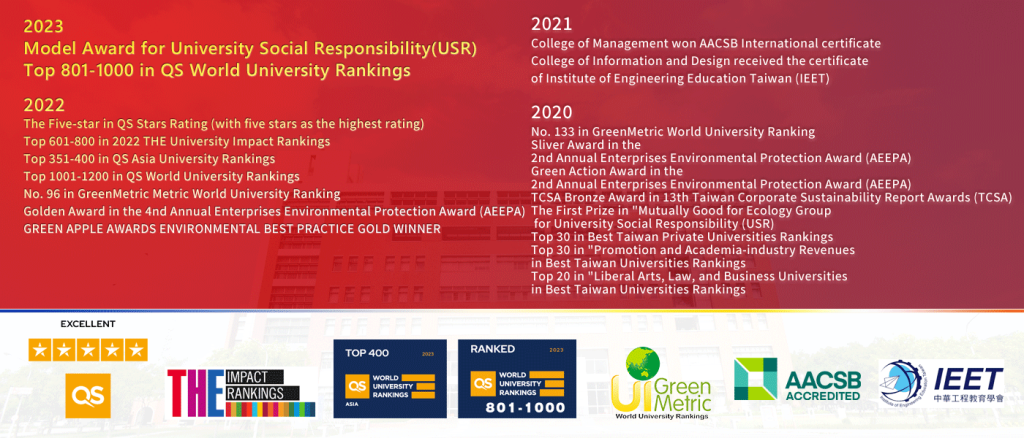 To provide an excellent teaching and learning environment for our faculty and students, Chang Jung Christian University invests several tens of millions of New Taiwan dollars every year to continue to enrich and improve our learning environment, facilities, and teaching and research equipment. Additionally, we actively apply for International Safe School (ISS) certification, apply the latest technology assistance (such as the LINE Bot safety reporting system, a license plate recognition system, and a central monitoring system (CMS) for campus safety) to implement and execute all measures to maintain campus safety every day, and recruit full-time night security guards for both inside and outside the campus. We have spared no effort in building a safe and healthy school environment.
In addition to improving our physical facilities and spaces, we have invested a great amount of resources to hold multiple and diverse extracurricular exchange activities, competitions, industry internships and career exploration to strengthen our students' willingness to undertake extracurricular learning. Moreover, we actively promote international dual degree programs, foreign student exchange, overseas internships, summer study camps, short-term cultural exchanges, cross-national online interaction, and other cross-national and cross-cultural learning mechanisms with the hopes that we can actively help our students explore their career aspirations, anchoring their future step by step.
The youth, vitality and infinite creativity of our students have brought Chang Jung Christian University a rich, youthful vigor. Thanks to the endeavors of our faculty and your senior schoolmates, we have made several outstanding achievements. In near future, with you studying at our university, we will create an unparalleled performance. Chang Jung Christian University is looking forward to having the pleasure of sharing the most spectacular chapter of your life with you.
Sincerely yours,
Yung-Lung Lee
President of Chang Jung Christian University
2022.06.09